Dickson County Higher Education Center Announced for Dickson and Surrounding Communities
Tennessee College of Applied Technologies (TCAT) Dickson, Nashville State Community College, TriStar Horizon Medical Center, and The Jackson Foundation are announcing a $35 million-dollar state-of-the-art Dickson County Higher Education Center on TriStar Horizon's Natchez campus off Highway 46, just south of Interstate 40.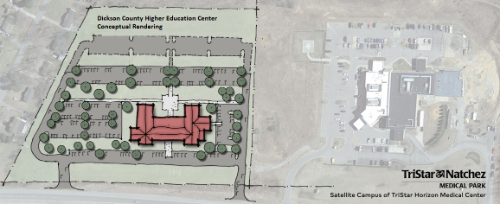 The Dickson County Higher Education Center, funded by a state appropriation approved by the Tennessee General Assembly and supported by Governor Bill Lee, will serve Dickson and surrounding communities by providing residents a new space to earn a college degree, technical and career certificate, or certification in workforce programs.
TCAT Dickson will have academic programming at the center, while The Jackson Foundation, who will be providing an undisclosed financial gift to support the project, will have offices.
"The investment of a Higher Education Center in Dickson County is a large step that represents Dickson's growing stature. This educational space serves as a foundation for collegial relationships between multiple higher education partners, that could one day include four-year courses, to provide our residents opportunities for high skills and high wages. TCAT Dickson is proud of our inclusion in this campus," said Dr. Arrita Summers, president of TCAT Dickson.
The Higher Education Center will be the permanent Dickson campus for Nashville State, which is keeping its promise to stay in and expand offerings in the area.
"Our students and employees have experienced a lot of change the past year, but one thing that hasn't changed is Nashville State's commitment to be a valuable education and workforce solution partner," said Nashville State President Dr. Shanna L. Jackson. "We are thrilled to announce the Higher Education Center and work alongside our partners and the community to increase access and successful educational outcomes that lead to careers. I thank Mayor Weiss, and the Dickson City Council, along with Mayor Rial and others for their continued support, especially during the past year."
Coupled with state funding, TriStar Horizon is generously donating the nine acres needed for the Dickson County Higher Education Center. It will be conveniently located one mile south of I-40 on TriStar Horizon's Natchez Campus.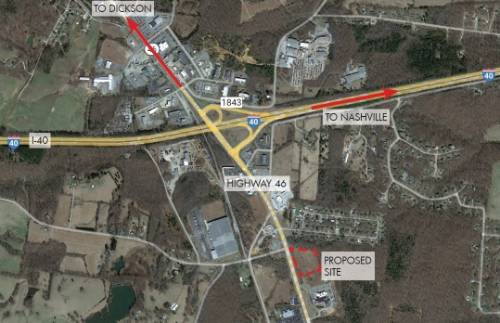 "TriStar Horizon Medical Center is honored to collaborate with these respected organizations and provide resources to support the growth and development of our future healthcare workforce in Dickson County and the surrounding communities," noted Cindy Bergmeier, chief executive officer of TriStar Horizon Medical Center.
The genesis for this project came from conversations between The Jackson Foundation and TriStar Horizon Medical Center, who each had been separately talking with Nashville State and TCAT.
"The Jackson Foundation is grateful for the opportunity to continue to support higher education in Dickson County. It was a dream of Dr Jimmy Jackson and a continuing goal of the Board of Trustees Foundation to bring higher education to Dickson and surrounding communities. We are excited about the possibilities and the partnership with the Tennessee Board of Regents and Nashville State Community College," said Doug Jackson, president and executive director of The Jackson Foundation, Inc.
Dickson County Mayor Bob Rial has expressed support for the expanded educational opportunities this will provide.
"With more educational opportunities available, students in Dickson and surrounding counties can enhance their skills and knowledge, which can help them succeed in their future endeavors. It also highlights the importance of education, which is crucial for our community's overall growth and progress," said Mayor Rial.
The Renaissance Center was home to Nashville State Dickson for years until it sold in July 2022. As TCAT Dickson housed Nashville State for the Fall 2022 semester, Mayor Weiss and the Dickson City Council stepped up by offering the former Senior Citizen Center (206 West Walnut Street) as a short-term solution while a permanent location comes to fruition. Nashville State has been downtown on West Walnut since January 2023. Nashville State will remain there until the Dickson County Higher Education Center is built and opened.
Speaking of the announcement, Mayor Weiss said, "We are excited about the decision to construct a campus for higher education and look forward to a long and productive relationship for continued and new educational opportunities in our city."
An announcement will be made when the Dickson County Education Center is expected to open.