Nashville State Professor Selected a Second Year for Prestigious Virtual English Language Educator Program
Nashville State School of Arts and Humanities Associate Professor of English as a Second Language (ESL) Devora Manier has again been selected by the U.S. Department of State for a virtual project, engaging with English language learners and teachers online in Thailand.
Professor Manier is among the more than 100 Virtual English Language Educator Program participants for the 2023-2024 academic year, beginning in November. The appointment follows her service during the 2022-2023 academic year.
Co-educating with Muhammadsukree Hayeesani, they are teaching Listening & Speaking in Public for the Liberal Arts English Program at Yala Rajabhat University. Yala is the capitol city of Yala Province in Southern Thailand.
"They are eager to learn English," Manier said. "Though shy, they have a vibrant sense of humor and enjoy working together to learn English."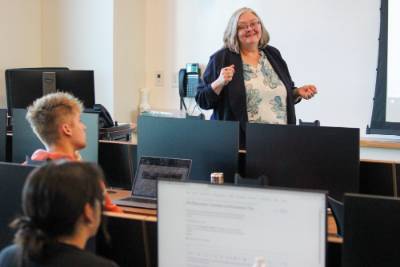 A member of the Nashville State faculty since 1996, Manier will lead conversational English sessions in five courses and assist local professors with course design and development.
The Virtual English Language Educator Program is the premier online opportunity for experienced teachers of English to speakers of other languages (TESOL) to enact meaningful and sustainable changes in how English is taught abroad. Through projects developed by U.S. Embassies in more than 80 countries, Virtual Educators work with local teachers, students, and educational professionals to improve the quality of English language instruction offered at prestigious universities, academic institutions, and cultural centers.
English Language Programs has placed thousands of TESOL scholars and educators with international partner institutions, abroad and virtually, to promote English language learning, enhance English teaching capacity, and foster mutual understanding between the U.S. and other countries through cultural exchange.
Virtual Educators in the English Language Program, administered by the Center for Intercultural Education and Development at Georgetown University, are among the more than 50,000 individuals participating annually in U.S. Department of State exchange programs.
For further information: Virtual English Language Educator Program.