Nashville State Student Presented with Tennessee Board of Regents Military Veterans Award
Carri Duncan, a U.S. Navy veteran and Nashville State Electrical Engineering A.A.S. student, has been awarded a Tennessee Board of Regents (TBR) Chancellor's Commendation for Military Veterans.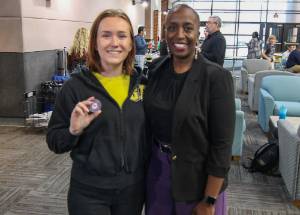 Duncan was presented with a challenge coin and letter of recognition during a short ceremony on the White Bridge campus by Dr. Johannah Williams, dean of the School of STEM and the acting vice president of Academic Affairs and Workforce Development.
American Legion Post 82 and the Veteran Mentor Project were also on campus for the presentation.
Duncan is a hardworking, compassionate, and amiable contributor to the Nashville State community. Advocating for all students and connecting other veterans with resources both at the College and in the greater Nashville area. Duncan has demonstrated resilience and strength in her life and continues to direct her energy into improving the experiences of others.
As Tennessee Board of Regents institutions, community and technical college presidents were able to nominate candidates for the Chancellor's Commendation. Duncan was nominated by Nashville State President Dr. Shanna L. Jackson.
Previous Nashville State honorees include:
2022 – Dawne Moore, Student Success Advisor, U.S. Army
2021 – Katrina Dubree, U.S. Army
2020 – Fred Frazier, U.S. Navy
Nashville State is a Veterans Education Transition Support (VETS) Certified Campus from the Tennessee Higher Education Commission.
As a VETS Campus-certified institution, the College prioritizes outreach to veterans and delivers the services necessary to create a supportive environment where student veterans can prosper while pursuing their education. Duncan embodies that supportive environment.