Wife and Husband Enhance Culinary Skills Together
Jonathan and Gwendolyn Greer are first-year students in the Randy Rayburn School of Culinary Arts at Nashville State, Southeast campus. They have not been in college since the 1980s.
After earning their bachelor's degrees and spending a few years in their respective fields of interest, they married.
37 years later their four children, who have all received their degrees, get to see their parents back in college.
"We always told our children to be lifelong learners, and we are living proof," the Greers said.
They both went to schools in Michigan.
Jonathan started his college career at a community college, receiving an associate degree in Science. Shortly after, he attended a four-year university, graduating with a Bachelor of Science in Applied Math and Statistics. This is where he met his wife, Gwendolyn.
Gwendolyn graduated with a bachelor's in Accounting. Upon graduation, she held positions handling audits and taxes. She also started her own business, with a clientele of small businesses preparing monthly statements and taxes. After working for several years, their family grew and the Greers made a decision for Gwendolyn to stay home after the birth of their third child.
Jonathan spent years in the automotive industry. It was during that time that he obtained his master's in Manufacturing Engineering. He owned a consulting business specializing in employee development.
Retiring in 2018 after spending the next 32 years as a community college professor teaching business, mathematics, and manufacturing courses, Jonathan wanted to stay active, so he decided working at Kroger would be a good fit. He still works part-time. Gwendolyn worked with him for 18 months.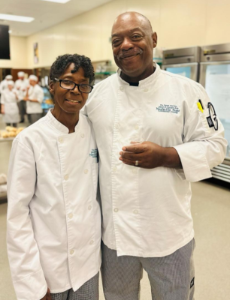 Jonathan has always loved trying new recipes, watching cooking shows, and wanted to study the Culinary Arts, so he asked his wife if she would like to go back to school with him. She said, "It would be fun doing that together."
They both enrolled in their first culinary class in January 2023. They have enjoyed their culinary experience tremendously and are industry-certified, as they just passed the ServSafe Manager Exam. They are well on their way to academic honor status and are having fun with the students and faculty.