Nashville Flex
We know that completing college can be a tough task, especially for students who already work hard to cope with many responsibilities while earning their degrees. And we want to help. The Nashville Flex program provides eligible students with financial and academic support while pursuing a part-time education at Nashville State. We will give you the support you need to complete your degree.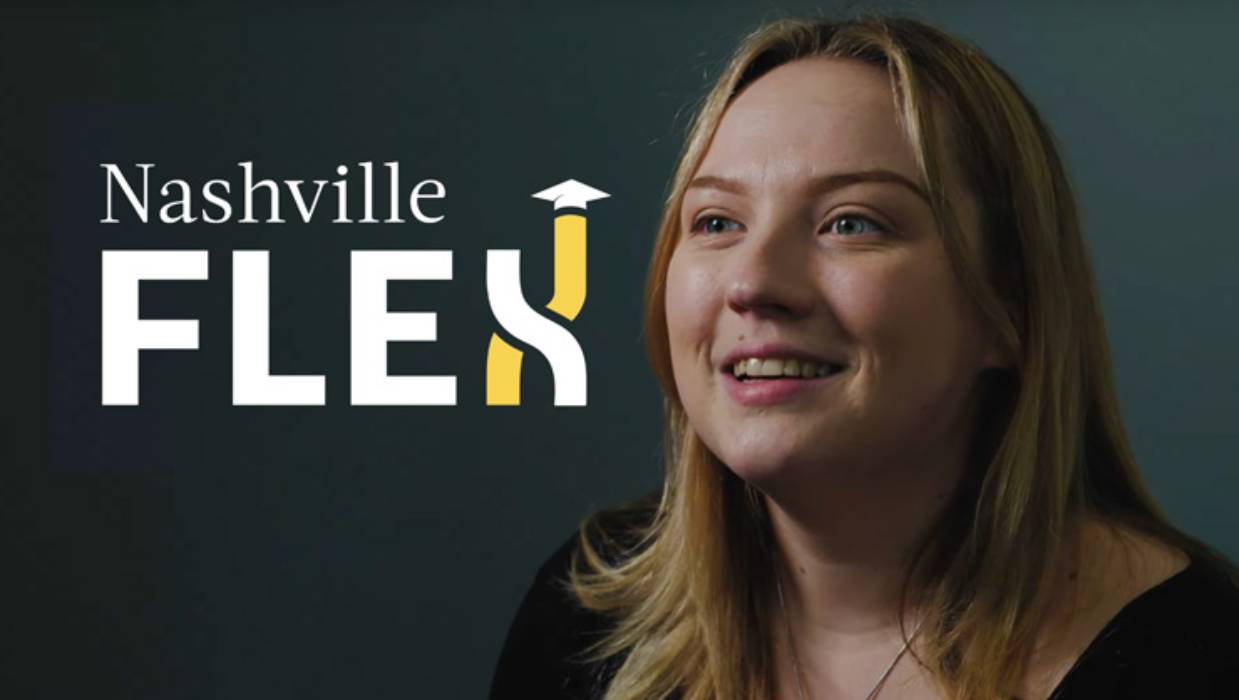 Play Video
Be a Nashville Flex Student
What You'll Get
Up to $150/semester to reduce (or eliminate) costs with textbooks

Up to $150 monthly support paid in three installments (for gas and groceries)

Access to check out a laptop to help with coursework

Special class scheduling, allows you to create a schedule that fits your availability

Dedicated career development support services

Advisor support and personalized guidance to help you succeed at Nashville State

The chance to build a strong network by taking classes with other Nashville Flex students
Are You Eligible
Students using Tennessee Promise and Tennessee Reconnect

are

eligible for Nashville Flex

Enroll part-time (at least six credit hours) at Nashville State Community College in an associate degree or technical certificate program

Reside full-time in Davidson County one year prior to completing the FAFSA

Not have previously earned an associate or bachelor's degree, and have less than 15 credits prior to applying to the program
"It's care. It's support. It's knowing that you are not on your own."
How to Join
Applying to Nashville Flex is easy. Follow the instructions below and reach out to the Student Success Center with any questions.
Step 1: Apply to Nashville State
Step 2: Complete the FAFSA Application
Have your tax information and personal documents ready.
Visit Apply for Financial Aid for more information and assistance.
Step 3: Enroll at Nashville State
Once admitted you can:

Choose your program of study.
Attend orientation.
Find your advisor.
Register for classes.
Visit
How to Enroll
for more information.
Step 4: Complete the Nashville Flex Application
Use your A# and password to log in (same information to log into your myNSCC account). Once reviewed, a Student Success Advisor will contact you regarding your eligibility and the next steps.

Deadline to apply is January 7.
Spring 2024 Nashville Flex Application
Student Engagement
Student Engagement Opportunity Calendar: View upcoming opportunities to connect with other students and learn more about students' success!
Student Engagement Reporting Form: Complete this form to document your attendance for any engagement activities you attend.
Contact the Nashville Flex Advisor