Curiosity, Positivity, and Community Runs Deep with Afotey
"Nashville was becoming and blossoming into this huge melting pot," said Christiana Afotey.
The Glencliff High graduate said that seeing all the different ethnicities represented at school opened her eyes.
Either students or their parents were from Australia, Canada, Spain, Mexico, Dominican Republic, Africa, Jamaica, Haiti, and other countries.
During her time, she thought, "I need to learn how to be a better citizen, a better human, and what can I do?"
"I took Spanish in high school and wanted to learn how I can be a better servant to my community, so from there, it opened my eyes and showed me we are more similar than we realize."
Afotey's mom and dad immigrated from Ghana in West Africa to New Jersey, where Christiana was born. Her dad is a chief in their native Ghanian village and is an architectural engineer living in Nashville. Her mom was in nursing and healthcare, eventually changing careers and opening a storefront business on Nolensville Pike. At the same time, she also set up at the Nashville Farmer's Market.
"Seeing my mom do what she did, inspired me. I am so happy I got to see how her drive was unwavering. She was determined like a bull. That fed me."
Christiana came to Nashville State, where she took perquisites in classes such as Algebra, Geometry, and English Literature and then started her core classes while earning a degree in Associate of Science in Business Administration. During Christiana's time at Nashville State, her favorite classes were Organizational Behavior and Business Ethics.
It was in September 2013, when the idea for Threads by Dreads, her apparel brand, was born. Christiana got it off the ground around 2016.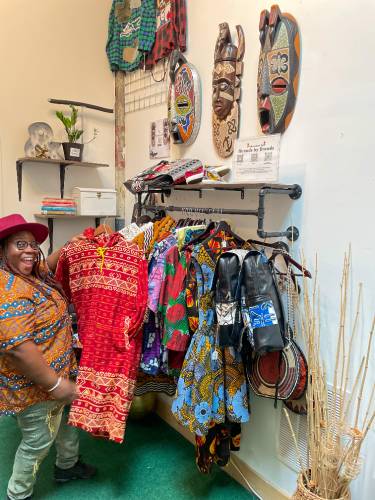 "I love the colors of African fabric, the prints, the styles of geometric shapes, repeated patterns. I wanted to have access to it all at the stores I was frequenting, but I didn't see it, so I was like, I am going to have to create it myself."
Christiana showed her mom some earlier examples of work, but encouraged her to do more shortly before passing away in 2015. "I feel her presence and is guiding me. I want to make her proud."
Threads by Dreads, located at the 100 Taylor Arts Collective, in Nashville's Germantown Neighborhood, is open on the weekends and at various events predominantly in Nashville, but also occasionally in Memphis, Kentucky, and other areas.
"In addition to helping you look amazing; we also want to make a difference and create curiosity in your roots and the world around us."
Through the Threads by Dreads Foundation, a scholarship was created for students in Ghana to complete their education, whether in high school or university. Since 2016, to date, 21 scholarships have been awarded.
10 percent of everything sold at Threads by Dreads goes toward scholarships. One college scholarship recipient is now working towards a master's degree. His hope is that he will learn how to better help amputees, like his father, by improving prosthetics.
Until early this summer, Afotey's full-time job was at Bank of America, where she worked as a Business Consultant, helping business owners scale up and connect to resources. Having been in banking since 2005, Threads by Dreads now fully occupies her time and professional attention.
Christina recently spent time consulting and mentoring as a community arts leader for the Metro Nashville Arts Commission.
With her wife, their family dog, a love of her ancestral roots, a deep sense of community, and a strong desire to give back, we know Atofey will continue being a shining light to many for years to come.