Nashville State Physics Professor Organized a Seminar on Materials Science for STEM Students
Nashville State Science, Technology, Engineering, and Math (STEM) students took part in an advanced research workshop focused on "Materials Science and Advanced Materials for Detection and Imaging Applications."
The October 26 hour-long workshop at the White Bridge campus was coordinated by Nashville State Assistant Professor of Physics Dr. Bir Bohara, who collaborated with Fisk University Research Professor Dr. Rastgo Hawrami and Research Associate Professor Dr. Elsa Ariesanti.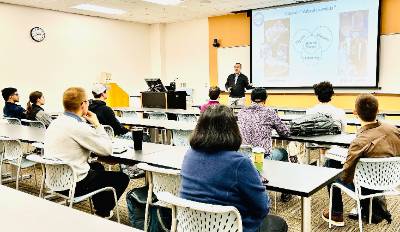 Throughout his time at Nashville State, Dr. Bohara has been engaging his students in an honors project, involving them in the creation of research papers focused on physics. During this semester Dr. Bohara is supervising the honors project of three students: Hugh Foley, Jacob Pickos, and Evan West.
The goal of this workshop was to inspire a passion for research and establish a connection between Nashville State STEM students and cutting-edge research and technology.
Dr. Hawrami and Dr. Bohara reached an agreement to host a seminar for the College's STEM students every semester. This seminar is a direct follow-up to that agreement.
Also, STEM students who are keen to get involved can take part in a summer research program at Fisk University, where they have the opportunity to enhance their theoretical knowledge while gaining experience with advanced technology.
Zaki N. Daouk, an electrical engineering student who took part in the 2023 summer program, said, "This seminar holds great appeal, not just for physics and engineering students, but also for those in the field of biology and chemistry because materials science is a subject that bridges multiple disciplines."
Dr. Bohara's work aligns with the College's Vision 2030 which, in part, is to have all students find success at Nashville State and beyond.
"My goal is to ensure the success of my students not only within my classroom but also beyond Nashville State," said Bohara. "As future leaders in science and technology, my objective is to facilitate their access to research opportunities through these kinds of initiatives. I am grateful for the unwavering support and encouragement provided by Associate Professor of Biology Dr. Jeff Green, faculty chair of the School of STEM, and the Dean of the School of STEM and Interim Vice President of Academic Affairs Dr. Johannah Williams throughout this endeavor."
The appreciation for the ongoing workshop and research program was expressed by Hugh Foley.
"The seminar was genuinely captivating. Before the seminar, I only appreciated crystals for their visual appeal, but I had never comprehended the extensive practical and scientific applications they offered," said Foley, who is seeking an associate degree in Chemistry and is president of the Physics club. "Beyond its sheer interest, I know the seminar also enlightened the attending students about the research internship. Having the chance to acquire hands-on lab experience, collaborate with experts, and enhance my scientific understanding is incredibly valuable and can play a crucial role in shaping my career."
Fisk's Dr. Hawrami is excited to continue working with Nashville State to create pathways for students interested in the sciences.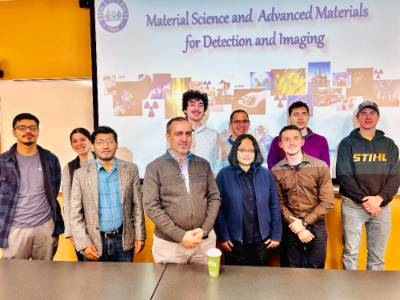 "Enthusiastic students who are eligible to participate in the research program at Fisk University have the opportunity to pursue a master's degree at Fisk University or Vanderbilt University. Additionally, we can facilitate their connections with national laboratories and prestigious academic institutions."